Outdoor TV
Garden Entertainment
Unique, pioneering & customisable! Just a few of the factors that make Armagard's outdoor TV enclosure units so popular.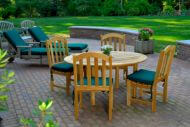 Spending time outside in the summer months is one of life's great pleasures, especially for those of us lucky to have a back garden. But making the most of the summer can be a challenge, and while barbecues allow us to cook in the open air, up until now, if we wanted to watch the big game or another TV programme, we have to go back indoors.
Outdoor TVs
Times are changing and outdoor TV use is becoming increasingly common - enabling you to enjoy the sunshine and your favourite TV show, sports programme or home movies at the same time.
However, buying an outdoor TV can be extremely expensive, with the price of waterproof and outdoor TVs often 10 to 15 times that of standard flat screen televisions.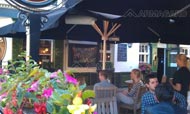 Wheeling your living room TV outside can be impractical, and expensive from the damage caused by a sudden downpour of rain! However, there is an alternative, Armagard outdoor TV enclosures provide a cost effective solution that enables you to use standard LCD TV screens in an outdoor locations, safely and securely in any weather!
Outdoor TV enclosures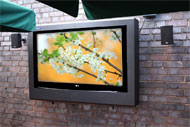 Outdoor TV enclosures are protective weatherproof cabinets for standard TV devices. They can be securely wall mounted in a patio or deck area enabling any standard TV to be left outdoors as a permanent fixture.
Armagard TV enclosures are manufactured from mild steel with a powder coated finish and are sealed to at least IP62 which means they can be left outdoors without the rain getting in, the enclosures are also lockable and secure, which means that an opertunistic theif won't be able to get in either!.
Whether it's a brand new flat screen, bought solely for the garden - or an old LCD TV no longer used around the home, an outdoor TV enclosure enables outdoor TV viewing at a fraction of the cost of buying a waterproof outdoor TV.
Fill in our Contact Form or call us on +44 (0)121 608 7226 for more information on outdoor TV products from Armagard.
Further reading on outdoor tv:
Here's a selection of popular articles from our blog about how Armagard products can allow you to use a standard TV in outdoor locations and other outdoor TV solutions: