Armagard, have launced two new products to their digital signage range:
The Outdoor Digital Signage Totem and the Personal Branded Retail Totem are the latest products in Armagard's burgeoning range of digital signage hardware.
The Outdoor Digital Signage Totem is a floor standing enclosure designed to accommodate both 46" and 47" screens, protecting them from the rigours of an outdoor environment. Built to IP64 (NEMA 4) the Outdoor Totem Enclosure provides effective defence against rainfall, temperature extremes, outdoor weather conditions and high impact forces.
Standing 1.8 metres tall, the Outdoor Digital Signage Totem is integrated with both heating and air filtration modules, providing temperature control and maintaining a stable and consistent interior environment, ensuring lasting efficiency of you screen.
Able to accommodate almost any make or model of LCD or plasma screen, the Outdoor Digital Signage Totem is an aesthetically attractive display and is shipped ready for installation of your screen.
The Personal Branded Retail Totem is a standalone indoor digital sign allowing personal branding on the sign itself. Available in 32" and 42", this floor standing digital signage enclosure provides maximum visibility for your displays.
With removable branded panels, both front and back, this attractive-looking digital signage totem provides more opportunities to increase brand awareness for your business, and is ideal for retail areas, receptions, studios, conference centres, hotels, exhibitions and concourses.
Armagard will be demonstrating both their outdoor and retail totem at InfoComm 2011 (June 15-17, Orange County Convention Center in Orlando, Florida) along with a range of their LCD enclosure products at Booth #4370.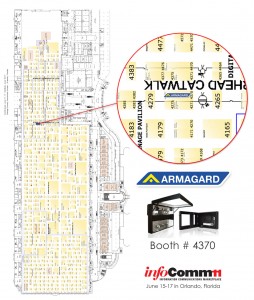 Find Armagard at InfoComm 2011 Booth #4370