Outdoor TV Installation Becoming More Popular
Outdoor TVs are becoming a popular item in both homes and businesses. Many pubs, bars, and restaurants are installing them to entertain customers in outdoor locations.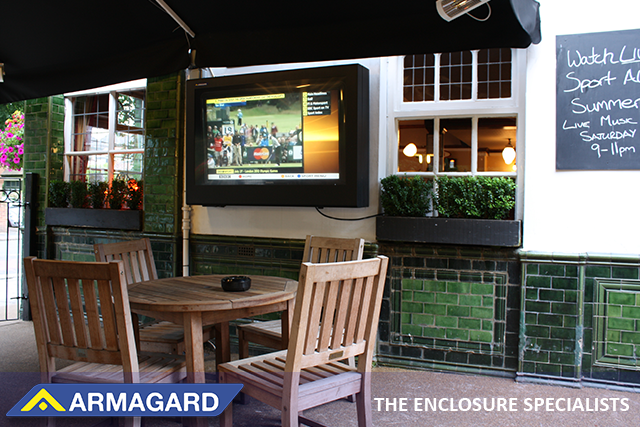 Plus, homeowners are installing them in patios, barbecue areas and gardens as more and more people take to outdoor living.
Installing a TV in an outdoor location does come with several problems, though. The weather is one of the main concerns, as water and electrical appliances, like TVs, do not mix, but there are other considerations, too.
Physical protection is something that needs to be considered. An outdoor screen is in a vulnerable position, and unless you want to keep transporting it indoors after use, it will have to be secure enough to prevent theft and vandalism.
For an all-year-round outdoor TV, the temperature needs to be considered, too. An LCD TV left outdoors permanently is subject to the heat of summer and the extreme cold of winter, both of which can cause problems if the device overheats or condensation freezes inside the TV.
Sunlight is another factor that can often cause problems for outdoor TVs. Direct sunlight will cause glare, making the screen unreadable and increasing the likelihood of overheating.
High-brightness screens and anti-glare glass can overcome these viewing difficulties, but they do not prevent the overheating issues.
An outdoor TV enclosure is a simple solution that allows you to use a TV safely outside. Contact Armagard to find out more.   
Outdoor LCD TV Enclosure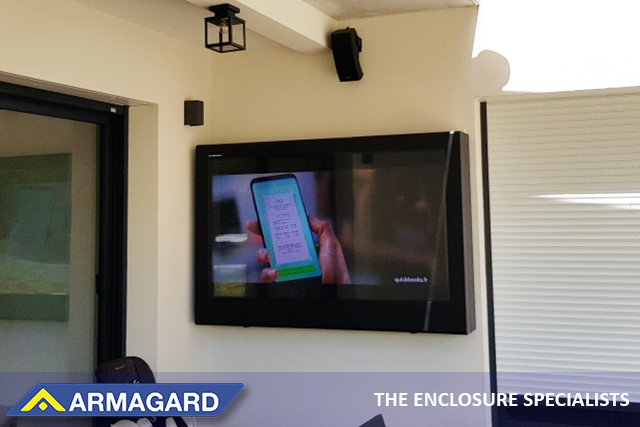 LCD enclosures offer all-round protection for outdoor TVs and can actually save money in the process.
Not only do these steel TV cabinets protect an LCD TV from the weather, dust and other outdoor elements, they also have a temperature-controlled environment inside the enclosure to prevent overheating (and freezing in cold conditions).
They also protect the device from theft and vandalism, as they are manufactured from steel and can be mounted on a wall bracket or other secure mount.
Furthermore, LCD enclosures can protect standard TVs in outdoor locations, which means there is no need to spend money on expensive purpose-built TVs, as almost any flat panel device can be installed inside an outdoor TV enclosure.
Contact Armagard To Find Out More
Safely install a TV in any domestic or commercial outdoor location.
Contact Armagard to discuss your requirements and for a no-obligation quote. Call +44 (0)121 608 7226 or fill out a contact form.