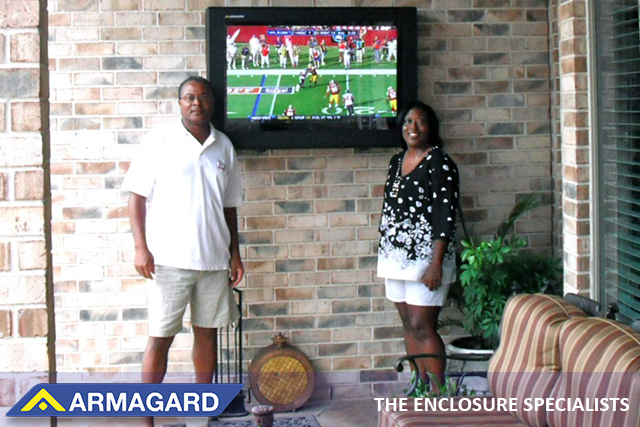 Wouldn't it be great to take your TV outside on a warm summer's day? You could watch the big game in the sun, or you could treat the kids to an outdoor film.
Make sure your TV is well protected, though. Outdoor environments can be risky places for indoor TVs, so think about a solution that shields the screen from bad weather, overheating, accidental damage and more.
Read on for five reasons to protect your outdoor TV, plus an introduction to TV enclosures — a simple way of using a screen in any location.
1. The weather… The biggest 'killer' of unprotected outdoor TV displays. Rain, sun, sleet, snow, ice, hail and strong winds are perhaps the primary reason why you should invest in outdoor TV protection.
You would be pretty frustrated if your outdoor TV stopped working due to water damage, overheating or a cracked screen. So, why take the risk?
It's not just damage to your outdoor TV that can occur as a result of the weather, safety hazards can also occur.
For instance, water damage from rain, sleet, snow or ice could lead to an electrical malfunction, which could start a fire.
You can avoid such hazards with a number of weather-resistant, outdoor TV enclosure solutions.
For example, the Armagard LCD enclosure provides all-year-round, weather resistant protection. The LCD enclosure range can safeguard against rain, sunlight and sub-zero temperatures (model dependent).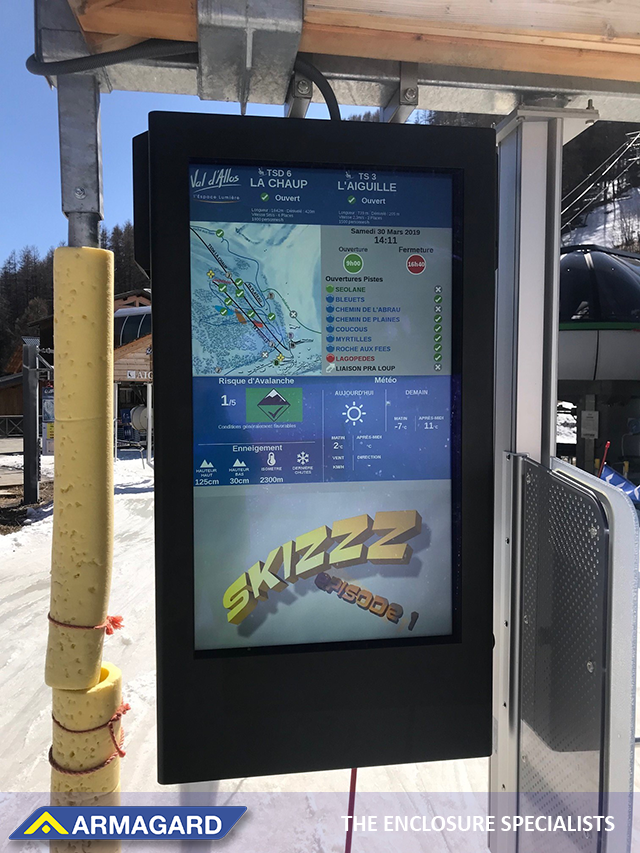 2. Theft… There's nothing worse than investing in an expensive outdoor TV only to discover that it has been stolen.
Therefore, theft prevention should be high on your list of factors for investing in outdoor TV enclosure protection.
Your outdoor TV screen has value, which is why, if left unprotected, thieves will seize the opportunity to steal it.
You can prevent this from happening by protecting your outdoor LCD or Plasma TV screen with an enclosure, for example, the Armagard LCD enclosure.
Able to accommodate outdoor TV screens between 19" and 85", this premium product features a number of security safeguards installed to deter thieves.
3. Vandalism… In the year ending September 2013, the number of crimes involving vandalism across England and Wales exceeded 500,000 (source: Office for National Statistics). This statistic emphasises the problem of vandalism and the threat it carries towards your outdoor TV display.
Therefore, you need to invest in an outdoor TV enclosure because the cost implications are much lower than paying repair or replacement expenses.
Buying an outdoor TV cabinet offers more than protection for your display, it protects your finances.
4. Save money and prevent hassle… Weather damage, theft and vandalism affecting your outdoor TV screen result in two things – losing money and wasting time! Where are time and money lost if your outdoor TV display is damaged or stolen?
Engineer call out charges
Labour charges for repair
Police statements
Long calls with your insurance company
Waiting for insurance money or a replacement product
Investment in a new outdoor TV display if you have no insurance
Simply buying an outdoor TV enclosure, such as those provided by award-winning manufacturer Armagard, means you'll likely never have to worry about weather damage, theft, vandalism, financial loss or hassle again.
Contact Armagard to discuss the best outdoor TV enclosure for your needs.
5. Improve the lifespan of your outdoor TV… The value of investing in an outdoor TV enclosure will be revealed year-after-year. Maintaining the functionality of an outdoor TV display over a long period of time will prove to be extremely beneficial to your finances.
If left exposed, it's only a matter of time before your outdoor TV display suffers weather damage or becomes a target for vandalism and theft.
Therefore, it pays to purchase a protective enclosure unit simply because it will save you money and provide everything you need to operate a TV in an outdoor environment.
Are you looking at your exposed outdoor TV right now? Then consider who else might be looking at it with ulterior motives. Act now before it's too late!
How To Protect Your Outdoor TV Screen
A combination of solid construction, weather resistant features and various security devices make Armagard outdoor TV enclosures the premium product of choice for outdoor TV protection.
You can choose from new and classic design enclosure concepts that are proven to deliver safe and effective results, providing an excellent standard of protection and security for outdoor TV displays.
Contact a sales advisor to find out more about custom outdoor TV enclosure options for any environment.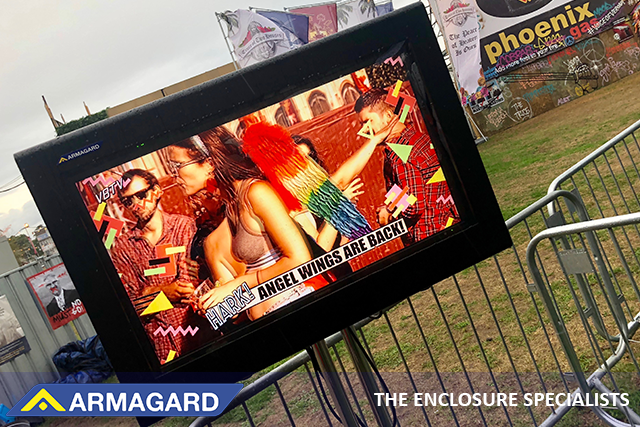 Choose Your Ideal Outdoor TV Enclosure Today
Armagard outdoor TV enclosures are delivered fully assembled, are easy to install and are ready for immediate use.
We offer a FREE enclosure suitability assessment for your location and the opportunity to visit us on site, in Birmingham, UK, to witness the Armagard manufacturing process. We even provide a custom-built enclosure service.
We're the elite name in our industry, trusted by some of the world's biggest brands to provide products suited to their requirements.
Call +44 (0)121 608 7226 to discuss your requirements or fill in a contact form.