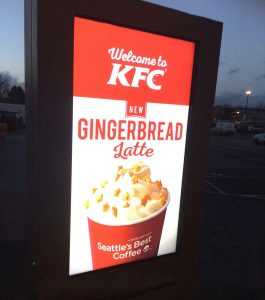 Editor's note: This is a guest blog from Sarah Hanney… Sarah is a writer and blogger for out-of-home signage experts, Signkick.
Digital signage in Quick Service Restaurants isn't a new phenomenon. Over the last few years, indoor digital signage at QSRs has become increasingly commonplace. But now, the fast food industry is taking its digital signage outdoors as part of the drive-thru experience.
QSRs were quick to recognise the benefits of using digital signage inside their restaurants to display menus, take orders and interact with customers.  Over the last couple of years the fast food industry has been cashing-in on the flexibility and speed of digital menu boards (DMBs).
Big chains like McDonald's are fast expanding their use of customer-facing digital signage. And some of the more innovative companies are using digital screens to interact and engage with their patrons as they wait for their meals.
Since over half of QSR sales are generated from drive-thru, taking digital signage outdoors is the next obvious step.
QSRs and out-of-home
QSRs have a long history with the out-of-home industry, employing billboards and posters across towns and cities to promote their products. It's a format that works well for the restaurant industry.
Eye-catching visuals, and big, bold, simple messages that appeal to the senses are ideal for promoting brand awareness. And OOH ads can be strategically placed to catch hungry passers-by when they're close to point-of-purchase.
Digital out-of-home (DOOH) works especially well for the QSR industry because of the flexibility it affords. It allows for real-time content and relevant messages that can be easily adapted according to the time of day, week or season. It also allows for the development of dynamic campaigns that engage with customers more effectively than a plain static message.
QSRs are applying this winning DOOH formula to their drive-thru design
Drive-thru design has a huge influence on what we order. It's designed to draw consumers' eyes to specific items and deals, maximising upselling opportunities. It also speeds-up the drive-thru process by helping consumers make a quick choice rather than trawling through a long list of menu options.
The benefit of digital drive-thru signage is that it enables restaurants to take advantage of the best bits of drive-thru design whilst by-passing the limitations of static panels and posters.
Digital signage affords flexibility
One of the most valuable aspects of digital signage for QSRs is the ability to change what is displayed at different times of the day.
Restaurants can display breakfast menus first thing in the morning, single-user offers and combo meals at lunch, snack items mid-afternoon and family meals and desserts at dinner-time.
Likewise, pricing can be adjusted according to the time of day, with higher prices late at night for example.
This level of flexibility just isn't possible with static signage where printing and placement costs make signage expensive to update and upselling opportunities limited.
Digital signage offers better return-on-investment
Because of this flexibility, digital signage can offer a better ROI than static signage. Whilst initial costs may be higher, advancements in technology mean that digital signage is becoming a more affordable option.
As well as flexibility and decreased printing costs, digital drive-thru solutions provide a streamlined process with more efficient service, increased sales opportunities and improved order accuracy.
Studies have shown that QSRs have seen a 5-8 % increase in revenue after installing indoor digital signage. A trend that can also be expected of drive-thru digital signage.
What's next for digital drive-thru?
The very concept and success of the drive-thru is based around a model of convenience and speed. In this tech-savvy world, customers' expectations exceed the current model of static menus and time-intensive ordering processes.
Digital signage is set to take QSRs into a new era of customer-service based around its intrinsic aims of offering relevant, dynamic information and a fast no-fuss service.