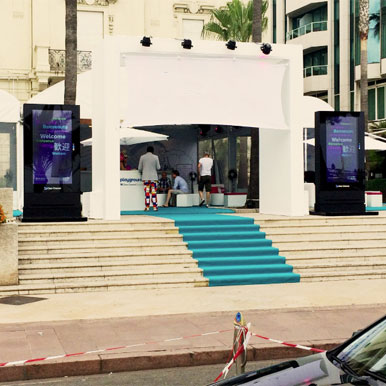 Discover the 72" outdoor digital signage totem, the ultimate outdoor advertising system.
Overview
The 72" outdoor digital signage totem is an engineering masterpiece that offers a stunning focal point for any advertising campaign. This unit offers you an extraordinary edge over your competitors, providing a display prominence that's poignant.
Expertly engineered using high-quality materials, the 72" outdoor digital signage totem serves as formidable protection for 72" screens used for outdoor advertising displays, wayfinding or drive-thru restaurants.
Business Benefits
From a cost perspective, installation of the 72" outdoor digital signage totem eliminates the need to spend on other expensive platforms such as print media or web advertising. It's also much more environmentally friendly, significantly reducing the paper usage of businesses by eliminating the need to print literature.
The 72" outdoor totem gives you advertising independence. No longer will you need to rely on third party services, you regain control of your advertising. Display your message when you want, without the burden of meeting deadlines and free from the clutter of other advertisers.
The 72" outdoor totem saves you time. Change content quickly and conveniently and display your message in a timely fashion at no extra cost and no waiting for the 'next edition' of a publication.
You can manage your digital signage network remotely and the self-sustaining facets of the unit mean that minimal maintenance is required.
Simply enjoy a timesaving, cost-effective display solution that can operate 7 days per week, 365 days per year for up to 10 years.
There's very little risk when investing in outdoor digital signage protection. Running costs are minimal and the product comes with a five year warranty for all mechanical parts and a 12-month warranty for all electrical parts. Plus, you will have access to our free product support forum for the lifespan of the unit.
What does the 72″ Outdoor Digital Signage Totem do?
With a choice of single-sided or double-sided units available, your 72″ outdoor TV totem enclosure will protect valuable screen equipment against damage from extreme weather conditions, airborne debris & physical impact.
Sealed to IP56 industry standard, the enclosure provides protection in extreme outdoor temperatures ranging between -30°C to +50°C, making it suitable for all seasons.
The 72" outdoor totem digital signage enclosure prevents the very real threat of damage due to tampering and vandalism. It safeguards against theft, featuring security devices to prevent unwanted access.
Design strengths
Manufactured using powder coated mild steel, the unit is completely customisable allowing you to add features that will sustain and improve the performance of your outdoor advertising display. You can choose to add heating or air-conditioning systems to control the temperature within the enclosure.
The High Bright Display Totem model has anti-glare or anti-reflective technology added to the display window to stifle the impact of sunlight and maintain crisp and clear screen visibility.
Should you select a unit complete with a screen, you'll be supplied with a high bright display with 2,000 – 5,000 NIT light emission capabilities, a complete sunlight readable solution.
How does it work?
The purpose built, IP56/NEMA 4 rated enclosure works by creating a harmonious environment in which your outdoor digital signage can function, reducing the risk of malfunction or damage.
The inclusion of temperature control systems will prevent overheating and/or freezing, while the steel structure and reinforced glass window display protect against the threat of screen damage from physical hazards.
Where's the value?
The value of the 72" outdoor digital signage totem is unlocked over a long-term period. You stand to save significantly by avoiding engineer call out costs for screen repair/replacement. You will also save time as you will no longer be dealing with insurance claims.
The unit is extremely low maintenance as it's self-sustaining, maintaining an optimum internal temperature, while shielding against exterior threats. This is hugely beneficial to your business as time does not need to be spent checking the unit every day.
What makes it different from similar enclosures?
What makes the professional 72" outdoor display totem unique, compared with similar products on sale, is the customisation options available.
You can choose from a single or double-sided unit and create the enclosure specific to your needs to provide protection for your screen. The product is delivered fully assembled, ready for positioning and immediate use.
Next Steps
Discover if the 72" outdoor digital signage totem is suitable for your environment. You've got nothing to lose! For a FREE suitability assessment for your environment, use the 'Quick Enquiry' service on our website – www.armagard.co.uk – and we'll contact you.
For a quote, or to order your 72" outdoor digital signage totem, call 0121 608 7226.
For peace of mind, visit the Armagard manufacturing facility and see how we build your enclosure. Give us a call to arrange an appointment to visit us on site. We want the purchase of your 72" outdoor digital signage totem to be a risk-free investment.
You can also connect with Armagard via our social networking channels. Join the conversation now…