How To Increase Footfall In Your Retail Store With Outdoor Digital Signage
Outdoor digital signage is proven to increase retail store footfall, with 76% of customers saying they've entered a shop because a digital sign caught their attention.1
By using storefront digital signage, you can attract customers, boost brand awareness and generate sales. It's also easy to use, and it works reliably in bad weather.
Let's look at the evidence for outdoor digital advertising and find out how you can use it to increase customer footfall.
Why Use Outdoor Digital Signage To Increase Footfall?
Research shows that outdoor digital signage is more noticeable, more memorable and more effective than printed signage:
Digital signage captures 400% more views than static signage.2
70% of 18 – 24-year olds are aware of the digital signage they've seen in the last 12 months.3
Digital signage leads to a 31.8% increase in sales volume.4
Simply put, outdoor digital advertising is better than printed signage at turning passers-by into customers. It helps your business stand out in busy retail environments, and it sticks in the memory of customers for longer.
The result? Increased footfall, more sales and a great return on investment.
How To Increase Footfall In A Retail Store: Four Tips For Outdoor Digital Signage
1. Position It In The Most Effective Location
Where you position your outdoor digital signage can make a big difference. Ask yourself some questions to make sure your promotions get seen by as many people as possible:
What direction do passers-by approach from?
Does the flow of foot traffic change throughout the day?
What practical constraints affect where you can position an outdoor display?
When it comes to boosting footfall, portable outdoor digital signage can be particularly effective. You can wheel a portable unit into position outside your store each morning, and you can move it quickly in response to changes in foot traffic.
For maximum effectiveness, position mobile digital signage directly in the line of sight of approaching pedestrians. For instance, point the screen down the high street to make shoppers aware of your store before they reach it. This can make portable digital signage more effective than window displays, which only face outwards and might not be seen until it's too late.
Dual-sided digital signage takes this benefit even further, allowing you to engage people approaching from both directions, doubling your customer engagement.
Finally, wheeled digital signage adds a different dynamic to your outdoor advertising compared to fixed totem displays. Because you can easily move digital signage on wheels, you can swap your displays between stores, giving you the freedom to display your promotions in the most effective location at any time.
2. Advertise In All Weather
Use outdoor digital signage to advertise continuously in changing conditions, with no downtime or missed opportunities due to bad weather.
Weatherproof digital signage has several features that help you boost footfall come rain or shine:
A weatherproof rating, which guarantees protection from rain and windblown particulates.
High-bright screens, which keep your promotions clear and readable in bright sunlight.
Internal climate controls, which ensure reliable operation in hot and cold conditions.
By using storefront digital signage to advertise in all seasons, you engage more shoppers, increase footfall and boost sales.
3. Advertise All Day, Every Day
Use outdoor digital signage to engage customers for as long as your store is open.
Battery-powered digital signage delivers a working day of use from an overnight charge. Simply wheel the display in-store at closing time and plug it into a standard mains socket to ensure it's ready to go the next morning.
Alternatively, mains-powered displays are just as easy to manoeuvre as battery-powered units, but they have a continuous runtime that's ideal for businesses with late opening hours.
Whichever you choose, you attract shoppers and boost footfall for the whole working day.
4. Keep Your Promotions Up To Date
Outdoor digital signage allows you to update your promotions quickly and easily. You can display up-to-the-minute offers, and you can respond quickly to trends and events that affect buying behaviour.
For instance, in bad weather, advertise products that appeal to a customer's desire to be warm and cosy. Conversely, on nice days, promote items that appeal when the sun's shining and people are more inclined to be outside.
The result is digital advertising that's engaging and relevant to passers-by, maximising your chances of turning them into customers.
As a user-friendly upgrade from static signage, outdoor digital signage has USB compatibility or WiFi/4G connectivity, so you can transfer content to the displays in moments. You reduce printing costs, save paper and say goodbye to the time and hassle of hanging awkward paper signs.
How To Increase Footfall In A Retail Store: Conclusion
Outdoor digital signage is an effective way of increasing footfall in your store. It's more engaging than static signage, and it allows you to attract customers with up-to-date promotions in any outdoor location.
For more advice on the best solution for you, check out this guide to choosing storefront digital signage.
For a no-obligation discussion about buying or leasing portable outdoor digital signage for your store, contact Armagard on +44 (0)121 608 7226 or fill in a contact form.
Sources:
[1] FedEx
[2] MVIX
[3] Bunn, Lyle, "Digital Signage in Retail Banking"
[4] MVIX

This post was written by Ben Telford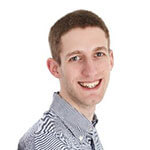 Ben joined Armagard as a copywriter in 2018. With previous experience of writing for a charity, he now assists in the production of Armagard articles, product pages and web copy. Ben Telford