The Best Storefront Digital Signage For Your Retail Store
As a shop owner or chain-store marketing manager, you want to be sure you're investing in the best storefront digital signage for your business.
Here are six things to consider when choosing an outdoor digital signage solution that generates maximum ROI.
1. Is It Easy To Position In The Most Visible Location?
You have several options when choosing and positioning storefront digital signage. Wall-mounted screens face outwards from your shop, securing the interest of people coming in, while freestanding totems capture attention in pedestrian walkways.
Portable outdoor digital signage delivers the best of both, allowing you to advertise in the ideal location at any time. You can wheel a portable unit outside your shop each morning, and you can easily move it around throughout the day in response to changes in foot traffic.
Portable displays come into their own when you place them directly in the line of sight of pedestrians. By pointing the screen down the high street, you engage shoppers before they reach your store. This can make wheeled digital signage more effective than window displays, which only face outwards and might not be seen until it's too late.
Portable digital signage gives your outdoor advertising greater flexibility compared to fixed displays. You can position wheeled digital signage quickly and conveniently to engage customers in areas where footfall is high.
For mobile digital signage that's easy to manoeuvre, choose a solution with the following features:
Castor wheels with brakes, for easy and secure positioning in any pedestrian location.
Ergonomic handles, for user-friendly portability.
Anti-vibration mounts for the screens, so you can move it with confidence the screens are protected.
2. Will It Provide A Whole Day Of Use?
The best storefront digital signage will provide a working day of use, every day of the week.
Battery-powered, portable digital signage does exactly that, enabling you to attract customers for a whole business day. At closing time, simply wheel the unit in-store and plug it into a mains socket to charge it fully for the next morning.
Alternatively, if you're a business with extra-long or late-night opening hours, a mains-powered display gives you the capacity to advertise 24/7.
3. Will It Attract Customers From Multiple Directions?
For the best storefront digital signage, choose a dual-sided option that attracts pedestrians from two directions.
Dual-sided digital signage allows you to show the same content on each screen, so you can reach twice as many people with your latest offer. Alternatively, show different content on each side to appeal to two separate audiences at the same time.
Either way, you benefit from twice the engagement, twice the footfall and twice the ROI from a single digital signage unit!
4. Will It Work Reliably And Effectively Outdoors And In Bad Weather?
Choose storefront digital signage that's designed with adverse weather and outdoor security in mind. Look for the following features:
An IP56 – 65 rating: An industry standard that guarantees protection from bad weather.
Internal climate controls: For reliable, continuous advertising in hot and cold conditions.
A steel enclosure with key-operated locks: To protect the screens from damage and theft.
You should also think about screen brightness. For mildly bright conditions, choose a battery-powered digital signage unit with 700 NITS screens. For extra visibility, opt for a 1,000 NITS unit, which keeps your promotions readable in brighter sunlight. For maximum visibility in the brightest locations, consider a 2,500 NITS, mains-powered unit.
A good weatherproof digital signage range will offer all these features and multiple brightness options. You benefit from reliable, secure and effective digital advertising in any outdoor location, for maximum advertising ROI.
5. Is It Delivered Fully Assembled And Ready To Go?
Make life easy for yourself by choosing a storefront digital signage solution that's delivered fully assembled.
Mobile digital signage units have integrated screens, so you avoid the hassle of installing third-party displays. All you need to do is charge the battery, connect your media equipment and wheel it onto the street.
When it comes to media equipment, you can look for digital signage that allows you to use your own, or you can choose a solution with a media player installed. The former gives you the flexibility of using your own hardware, but the latter saves you time, hassle and, potentially, money.
6. Does It Come From A Reputable Manufacturer?
The best storefront digital signage will generate maximum ROI by working reliably for many years. With that in mind, look for an outdoor digital signage manufacturer that provides the reassurances you want:
Proven industry expertise: Choose a manufacturer that can demonstrate years of outdoor digital signage experience. As a specialist in the industry, the manufacturer should be able to point to its in-house design and production teams and its stringent quality controls.
An established and tested product range: A good manufacturer will have a large portfolio of digital signage installations. Look for a company that weather-tests its products to international standards and has happy customers all over the world.
Lifetime technical support: Look for a manufacturer that offers long warranties and ongoing customer support. The best outdoor digital signage manufacturer will provide on-site assistance when necessary, no matter what country you're in.
Flexible buying options: An experienced manufacturer will understand the budget constraints of businesses in competitive retail environments. Look for a company that provides flexible purchase and lease options, making digital advertising cost-effective for any vendor.
A manufacturer like this will help you choose the best storefront digital signage for your business. You can be confident that your digital advertising will work reliably and effectively for many years.
Choosing The Best Storefront Digital Signage: Conclusion
When choosing storefront digital signage, look for a solution that's easy to position, runs for a whole working day, is dual sided, outdoor ready, delivered fully assembled and from a manufacturer you can count on.
When you tick these boxes, you can be confident that you've got the best storefront digital signage for you. You can look forward to greater brand awareness, increased footfall and maximum advertising ROI.
For more information about storefront digital signage options, contact Armagard on +44 (0)121 608 7226 or fill in a contact form.
This post was written by Ben Telford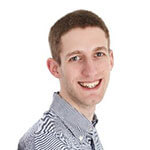 Ben joined Armagard as a copywriter in 2018. With previous experience of writing for a charity, he now assists in the production of Armagard articles, product pages and web copy. Ben Telford