Meet Hygiene Standards With A Washable Keyboard And Mouse
The coronavirus pandemic has brought workplace hygiene to the front of our minds like nothing else in recent history. Staff, customers and patients are looking to employers and service providers to ensure environments are safe.
If you're responsible for hygiene in a clean industry, medical setting, office space or factory floor, then top of your list should be washable keyboards and mice.
Let's look at the evidence for a waterproof mouse and keyboard and the features that make them effective.
Why Do I Need A Washable Keyboard And Mouse?
Numerous studies underline the importance of workplace hygiene and the benefits of a waterproof keyboard and mouse:
In 2009, research in a hospital found that the drug-resistant MRSA superbug can survive for 24 hours on a keyboard.1
In 2014, the Wall Street Journal reported on a study that described how a virus on a door handle spread to half an office's surfaces in just four hours.
In 2016, research found that the keyboards in one office harboured 20,598 times more bacteria than a toilet seat. The computer mice weren't any better, with 45,670 times more bacteria than a flush handle.2
If these statistics don't make the point, then the COVID-19 pandemic does. Businesses need to be conscious of the way germs accumulate on surfaces and spread quickly around the workplace.
This is true for any commercial or public environment, and it's especially important for clean industries, food manufacturing and medical settings.
According to the American Journal of Infection Control, frequent disinfection of computer keyboards is part of the solution.3 This means businesses and service providers should invest in IT hardware that allows quick, safe cleaning on a regular basis — like washable keyboards and mice.
How Do Washable Keyboards And Mice Help?
Waterproof keyboards and mice are manufactured from silicone rubber and have an IP65 rating that allows easy wipe down with common disinfectants.
They are ideal for:
Hospitals and GP surgeries
Pharmaceutical applications
Dentists
Food manufacturing
Laboratories
Factory floors
Offices and shared workstations
PCs in public areas, like libraries
Whereas cleaning a regular keyboard is a slow, frustrating job, a silicone-rubber keyboard is easy to disinfect. You can safely use various products, including CIDEX, alcohol and 10% bleach solution.
They're designed with no recesses, so contaminants can't get trapped. They also have an integrated touchpad or button mouse, allowing you to work without a separate mouse if you want.
If you do need a mouse, then use a waterproof, silicone mouse that you can clean thoroughly and frequently with confidence in its reliability.
By replacing your existing keyboards and mice with these washable alternatives, you can provide the peace of mind people are looking for:
Protect patients and staff by reducing the risk of cross-contamination in medical settings.
Reduce the spread of bugs and viruses in your office — and potentially reduce staff absences.
Make it easier to comply with hygiene regulations in clean industries and food processing.
People are looking to their employers and service providers to ensure the highest hygiene standards. This expectation will continue long after the coronavirus crisis has passed.
Washable keyboards and mice demonstrate that your business takes hygiene seriously. By installing them and keeping them clean, you protect public health, safeguard your employees and bolster the reputation of your business, surgery, hospital or service.
Contact Armagard To Find Out More
Armagard has washable keyboard and mouse options in stock and ready to ship.
Call +44 (0)121 608 7226 to discuss your requirements or fill in a contact form to request more information.
1 Lankford, MG; Collins, S; Youngberg, L; Rooney, DM; Warren, JR; and Noskin, GA, Assessment of materials commonly used in health care: Implications for bacterial survival and transmission. American Journal of Infection Control, 34(5) 258-63, 2006.
2 CBT Nuggets
3 Leander, J; Burke, R; Sulis, C; and Carling, PD; Dangerous COWS; An analysis of disinfection cleaning of computer keyboards on wheels, American Journal of Infection Control, 37(6) 778-80, 2009.
This post was written by Ben Telford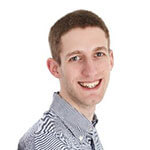 As Armagard's head of content, Ben oversees the production of articles, web copy, guest blogs and more. He aims to make Armagard's expertise in digital screen protection accessible to customers so they can choose the right solutions for them. Find Ben on LinkedIn.