Waterproof Mouse
IP65 rated washable optical mouse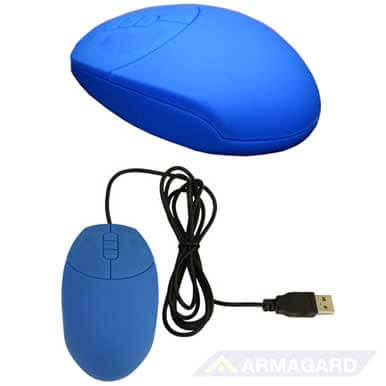 Ideal for:

Food Manufacturing
Factory floors
Pharmaceutical applications
Dentists
Hospitals
Clean room applications
At a glance:

Size (mm):

106 x 61 x 32

Material:

Latex-free silicone rubber

Number of buttons:

2 + 3 scroll

Operating Temp. :

0°C up to 70°C

Connector :

USB (PS/2 adapter included)

IP Rating:

IP65
A waterproof mouse used in conjunction with a wateproof computer enclosure will provide a solution that gives complete protection and usability.
Features & Benefits
Compatible with any computer this fully waterproof, IP65 rated mouse is easy to disinfect and keep clean. The sealed silicone rubber casing allows use of the mouse in any environment where risk of contaminants would prevent the use of a regular mouse. This mouse is therefore ideal for use medical or scientific environments or for wet or washdown areas for example food manufacture.
For full specifications & prices - Contact Us Now!
Specifications & Guarantees:
All Armagard products are constructed according to European IP and International NEMA standards, ensuring protection from liquids and particulates.
We guarantee:

5 Year Warranty of all mechanical parts (1 year for keyboards/mice)
Fast delivery
Informed and helpful staff
High quality engineering
Over 14 years of industry experience