Florette, Spain
Florette Favour Armagard Enclosures
About Florette
With facilities in multiple European countries including: France, Spain, Portugal, Germany, Switzerland, Italy, the UK and Ireland, Florette is widely regarded as one of the largest producers of salad.
Florette supplies a prestigious range of customers including McDonald's and supermarket chains Eroski, English Court, Auchan, Carrefour, Dia, Lidl and Ahorramas.
The Challenge
Florette in Spain sought the help of Armagard, seeking an enclosure solution to safeguard computers used in their new food processing facility in Milagro (Navarra).
They required a product that could deal with harsh conditions including: low temperatures and high humidity.
As a food production facility, it was also a vital requirement to have a solution that was suitable for washdown and could maintain high hygiene standards.
Florette wanted to avoid computer damage in order to reduce the risk of downtime, prevent paying repair/replacement costs and limit maintenance requirements, with an overall objective of improving business productivity.
The Solution
Florette opted to purchase five, standard SENC-800 units, mounting them on stands and positioning them for easy accessibility. The units proved to be the perfect fit for the facility, protecting their computer systems and allowing them to use a conventional keyboard and mouse.
With a stainless steel chassis, the SENC-800 is sealed to IP65 industry standard using a combination of silicone and optical bonding methods. Protecting against external threats such as dust, dirt and liquids, the SENC-800 eliminates the potential build-up of grime, while keeping computers protected during washdown.
The units all adhere to the request for a low maintenance solution, eliminating the need for lengthy cleaning processes and for further convenience, the units are accessible from the front and rear.
Featuring a shatterproof, polycarbonate viewing window Florette's computer screens are further protected against debris and physical impact, preventing breakages and production line contamination.
The presence of fans within the unit also helps to maintain a stable internal temperature, preventing component damage due to high humidity.
The SENC-800
Manufactured using food grade (316) stainless steel, the SENC-800 PC and monitor enclosure can accommodate a wide range of desktop PCs and screens up to 19".
The unit has front and rear door panels, providing easy access to PCs and screens for maintenance purposes. The unit also incorporates a sliding tray allowing for the use of a conventional keyboard and mouse.
The SENC-800 can be stand mounted, creating space on congested worktops and allowing for convenient positioning in any facility.
It's fully waterproof, dust proof and prevents the build-up of grime and bacteria, which is a common problem with exposed computers.
One of the most unique benefits of the SENC-800 is that it's fully customisable. Add temperature regulating systems such as air conditioning and heating modules for PC and screen protection in extreme temperatures.
You can add a touch screen feature eliminating the need for a keyboard and mouse, speeding up production processes.
The unit also features a number of security features to prevent tampering, vandalism and theft.
Benefits for Florette
Being able to use their current PC network Florette saved time, avoiding the upheaval and expense of installing new, dedicated industrial computers.
Florette now have a fully hygienic solution for protecting their computer systems, which has cut cleaning times and allows units to be washed down.
The Results
Florette now has a complete solution that suits the requirements of their facility. In their own words they highlighted the following benefits of deploying the SENC-800 throughout their facility:
Reduced risk of production downtime
Better management and control of data
Michel Ezquerro of Florette, Spain, said: "We did consider using a local supplier, but we already knew of Armagard because they provided enclosures to an old company [Tallo Verde Noblejas] before it was taken over by Florette."
The result of this project was so successful that Florette installed further SENC-800 units across their other facilities.
Michel Ezquerro of Florette, Spain, said: "As a result of Armagard's solution we have seen our IT teams suffer less. Prior to having the units our computer cleaning process was lengthy, putting the team out-of-action for long periods. That has now been resolved."
Featured Products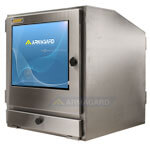 Stainless Steel PC Enclosure
Waterproof computer enclosures for protection in light wash or wipe down environments
Quick Enquiry