Asda
World's First Freezer Printer Enclosures Designed by Armagard for Asda
Asda, a division of American company Walmart, has 15 distribution centres across the UK, with a further 173 facilities spread across the US.
Asda has been part of the Walmart family since 1999 and employs more than 160,000 people worldwide.
Asda's roots date back as far as the 1920s, when a group of Yorkshire farmers founded Hindell's Dairies, processing and retailing milk and meat to a growing customer base. Today, Asda is recognised as Britain's second largest supermarket.
The Challenge
At the time of the Asda project, the way supermarkets handled distribution was changing. Huge, newly-built distribution hubs were replacing smaller facilities and as a result, supermarkets began building massive, chilled/freezer distribution centres (CDCs/FDCs).
These new hubs enabled Heavy Goods Vehicles (HGVs) to back directly into freezers and chillers to load up. However, this process took 50 – 60 minutes because stock had to be barcoded and correctly labelled. The problem was, supermarkets could not use printers in their freezers or chillers because printer heads could not tolerate cold temperatures.
This meant that the printing process for labels would occur elsewhere in the distribution centre, often in an office space located on the other side of these huge distribution hubs. This proved to be highly inefficient, adding to turnaround times and ultimately it affected Asda's entire operation.
Until Armagard's intervention, it was considered 'impossible' to use printers in chilled or frozen environments. The biggest challenge was convincing Asda that it is possible.
The Solution
Asda became the first company to trial the use of printers in a chilled/frozen environment. However, the company's operations managers were initially sceptical because traditionally, printer heads fail to function correctly in colder temperatures.
Despite costing upwards of £600 to replace printer heads, Asda agreed that it would be worth exploring the use of printers in cold environments using Armagard's product.
With that in mind, Asda/Armagard agreed the following brief:
To provide a heated printer enclosure that would operate in freezing temperatures (as low as -30°C), ensuring that the printer heads in particular were protected from the cold
The enclosure had to be thermostatically controlled to maintain a safe operating temperature for a printer
A spring loaded door was needed to prevent damage to printer heads as a result of an enclosure door being left open
Fail safe provisions were needed for the protection of cables, preventing any accidental severing of wires
Easy for staff to use and access without risking heat loss
Additional storage for label rolls would be needed
The unit would need to be 316 stainless steel
As a world-first, the design and manufacture of such a product required funding. Initially, Walmart were wary of financing such a project, concerned that it was the first time such a project had been attempted. They were also worried that staff would struggle to use it or they would damage it.
Distribution operatives also objected (but this had more to do with the fact that they would be losing 'unofficial' breaks as a result of having to walk to the other side of a distribution centre to retrieve labels).
However, Armagard advised Asda to view the project as something more than printer protection in cold temperatures, by highlighting some of the wider business benefits, including…
A reduction in turnaround times for the loading of delivery vehicles
More productive staff and man hours saved by cutting out the need to print labels elsewhere on site
A more efficient and practical solution of labelling
Improved support for stock control
A reduced risk of empty shelves, potentially deterring customers because the deliveries hadn't arrived on time
Improved market share
Improved profitability
… Ultimately, this convinced Walmart bosses to invest in the project.
With a plan, and funding in place, Armagard's unique, heated printer enclosure became the first of its kind to enable the use of printers in temperatures as low as -30°C - designed and manufactured in collaboration with Asda and several of the larger supermarket chains in the UK.
Based on the brief agreed by Armagard and Asda, a prototype was trialled by the supermarket giants for two weeks in an FDC.
Data loggers and sensors were used to track temperatures inside the printer, specifically the printer heads, to examine exactly what was happening inside.
All eventualities were tested for, from the door being left permanently open, to the extreme abuse it may encounter. Several minor changes were identified, but the test proved to be successful and received positive feedback from Asda.
The Results
Following a successful trial and rigorous testing of the prototype, Asda ordered an initial 9 units. Further orders were placed, and not only did they install heated printer enclosure systems in the UK, they implemented them in distribution centres as far as Japan.
The success of the SPRI-800 across Asda/Walmart distribution facilities saw other supermarket chains quickly follow suit, with Tesco, Morrisons and Bidvest 3663 (distributor for Sainsbury's and other food companies), all ordering several units.
Testimonials
Asda Walmart's (UK) Infrastructure Development Manager, Andy Walker, had this to say on the heated printer enclosures:
"At the time, the system allowed us to implement the IT systems for managing our goods. It became so absolutely crucial both operationally and commercially that we really needed it to work as it was fundamental to our operations - failing was not an option for us."
"I can't say what would have happened if we hadn't have implemented [the Armagard system], but it would have had both a huge commercial and operational impact as it was such a crucial part of our system."
The SPRI-800
Despite other companies attempting to imitate Armagard's heated printer enclosure design, our innovation, and the quality of our technology, is unrivalled.
It is testament to the superiority of Armagard's engineering and design - along with the thorough testing - that not one, of the many dozen units we have sold, has failed due to component failure.
The SPRI 800 is designed to be fail-safe, to meet the demands of distribution centres. The heated printer freezer enclosure:
Is completely user-friendly for operating staff
Uniquely protects printer heads from the cold with thermostatically controlled warm air ducting, designed to channel heat directly on to print heads.
Has a spring loaded door to prevent it from being left open
Has a heater designed to be fail-safe, with all cables of arctic grade quality and completely protected from accidental severing
Includes storage for label rolls and spare printer heads to allow quick replacement
Is designed with the highest quality components and engineering, built from food grade 316 stainless steel and thoroughly tested to ensure fail-safe working with all possible eventualities catered for
Benefits for Asda/Walmart
Once installed, the printer enclosure drastically reduced the loading time of delivery vehicles, improving operations and logistics. The system has become an essential piece of equipment for Asda Walmart and all large freezer distribution centres throughout Europe, enabling:
The faster turnaround time of delivery vehicles and increasing delivery ratios
Better staff productivity, by eliminating the time wasted walking to the office and back, to print labels
Improved support for stock control, reducing the risk of empty shelves deterring customers because deliveries haven't arrived on time
Featured Products

Heated printer enclosure
Thermostatically controlled heated enclosure for printer use in deep freeze environments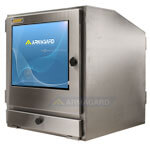 Stainless Steel PC Enclosure
Waterproof computer enclosures for protection in light wash or wipe down environments
Quick Enquiry