Printer Enclosure
Providing printer protection in wet, dusty working environments
A Printer enclosure will provide protection for company printers located in hazadous environments. The enclosures come with a lockable front and top providing protection and security, the enclosures come in two standards one is made of mild steel and comes in IP54 standard and protects against dusty environments, the other is made of stainless steel and comes in IP65 standard and protects against water or washdown environments.
---
For more information on printer enclosures click here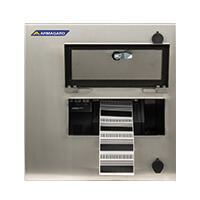 Printer enclosures used in harsh surroundings to protect computer systems in sensitive environments.