Visit AV protection specialists, Armagard, at the ISE 2015 exhibition in Amsterdam, 10th-12th February. Find us at stand 8-M182.
ISE 2015 – Overview
The convention is now in its 11th year, originally launched in 2004 to provide a platform for professionals in the emerging markets of professional AV and electronic systems integration, to gather & network.
Now, with ISE 2015 on the horizon, the exhibition holds a reputation as the world's most popular event for professional AV and electronic systems integration.
Rewind 12 months and 2014 was a year of records for ISE, achieving its highest ever attendance figures, with 51,003 registered attendees and 952 exhibitors turning out. It was the first time in the exhibition's history that attendee numbers had exceeded 50,000.
It was the increased number of exhibitors that proved to be the catalyst for over 50,000 attendees making an appearance, which represented a 15% increase compared with 2013.
So popular was the 2014 show that upon its conclusion, the rebooking figure for ISE 2015 was 10% more than the previous year.
Now, ISE 2015 promises to be the biggest event yet, and the exhibition's continued growth will see it become a four day event in 2016.
Armagard's Attendance 
ISE 2015 marks our 4th appearance at the event since our debut appearance in 2012. Six of our award winning enclosures will be showcased at this year's exhibition, featuring a mix of digital signage enclosure solutions.
As per previous years, the event will be staged at the Amsterdam RAI and you will find us at stand 8-M182, located in hall 8 of the venue. Come and see us.
On the Stand at ISE 2015
This year the stand will be manned by English, Spanish, German and French speaking representatives. Discuss your AV equipment protection with a member of our friendly team.
Meet the Team

  Keith Britton
  Armagard's Sales Manager

  Mike Thomas
  Armagard's Marketing Guru

  Alfredo Carrasco
  Spanish Territory Manager

  Mireille Godfrey
  French Territory Manager
  Hel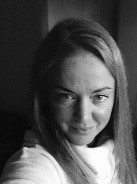 en Harris
  German Territory Manager

Locate Us
You will find Armagard at stand 8-M182, located in hall 8.

Pick Of the Products
The pick of the products on show is the stunning, 47" sunlight readable digital totem. Why? This unit is the complete solution, featuring a 2000 candela high bright screen and media player, protected by the powder coat mild steel totem enclosure.
This IP54 (IP56 subject to customisation), industry rated unit keeps the screen operational in temperatures as high as +40oC, without the need for air-conditioning. Adding an air-conditioning system means the unit can keep a screen operational in temperatures up to +55oC.
This is the ultimate money saving system, eliminating the need to source a screen, media player and protective unit, separately. Plus, it's completely customisable – ask a representative on stand about the customisation options.
Ideal for use as an advertising unit in public spaces, or as a menu board at drive-thru restaurants, this unit provides a fine focal point designed to provoke purchase impulses, leading to increased sales & revenue. The earning potential of this unit delivers a swift return on investment, enhancing its total cost of ownership appeal.

Additional Products
52" & 47" Landscape Unit – Armagard's Best Sellers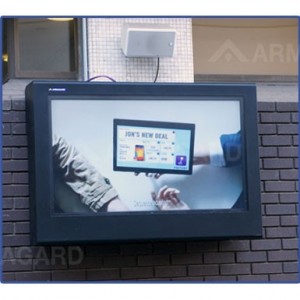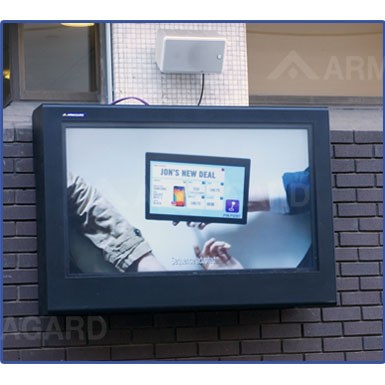 The classic outdoor, LCD enclosure will be on show, featuring the 52" and 47" versions.
The 52" landscape enclosure is fitted with Armagard's brand new controller board, which allows users to  control the environmental settings of the unit in cold climates.
You can adjust temperatures, control fans & control electronics to suit seasonal changes. The unit also features anti-reflective glass, which prevents screen glare & overheating by deflecting the sun's rays.
The 47" version features a 2000 candela high bright screen, touch screen technology and comes complete  with a micro PC. The touch screen feature increases customer interaction and allows for data gathering, a  great feature for businesses to monitor trends and consumer habits.
Speak to an Armagard representative on stand for prices.
42" Portrait Unit
New to the range, the 42" Portrait Flat Panel Enclosure is designed to better facilitate eye-level viewing.
They serve well as public information boards and digital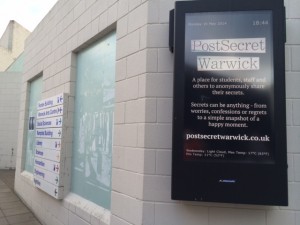 menus for restaurants.
The unit will keep screens operational in temperatures ranging between -30oC – +55oC (subject to air-conditioning). Plus, it features Armagard's brand new controller board, fitted as standard.
For more information & a price, speak to an Armagard representative on stand.
32" Waterproof LCD Enclosure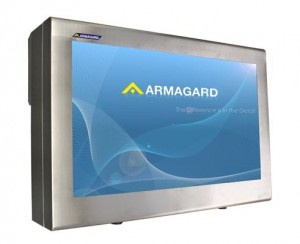 Designed with industrial environments in mind, the 32" Waterproof LCD Enclosure is manufactured using 316 (food grade) stainless steel. The unit is ideal for environments where high hygiene standards are paramount.
Sealed to IP56 industry standard, the unit is fully waterproof & robust, ready-made to deal with the rigours of industrial environments.
This unique unit gives industrial businesses a digital signage option.
For more product info and a price, speak to an Armagard representative on stand.
72" Totem
The 72" Outdoor High Bright Display – The 'bigger brother' of the 47" sunlight readable digital totem, this unit is a feat in engineering innovation.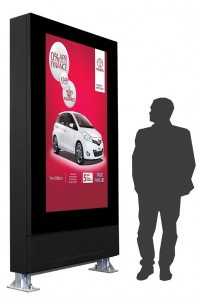 Offering all the benefits of the 47" unit, but on a more eye-catching scale, it comes complete with a 2000 candela high bright screen and media player.
This unit is ideal for high footfall locations, guaranteed to turn heads and raise brand awareness.
Speak to a representative on stand for a price.
Unable To Attend ISE?
Don't worry! If you miss out on ISE, you can catch us at the Digital Signage Expo (DSE) 2015 staged in Las Vegas, USA, 11th-12th March. We'll be at the Las Vegas Convention Center. Come and introduce yourself to Armagard at stand 1234. We look forward to meeting you there!
Prepare to Meet Armagard
To learn more about Armagard, and our products, visit www.armagard.co.uk
You can also view our ISE 2015 profile now & schedule an appointment to see us on stand, familiarise yourself with the products and speak to our friendly representatives.
Connect with Armagard
For all the latest news building up to ISE 2015, connect with us via our social media channels. Find us on Facebook, follow us on Twitter or connect with us on LinkedIn.
For any other enquiries, call us direct on 0121 608 7226. See you at ISE.