Five Benefits Of A Digital A-Board For Your Business
Digital A-boards are ideal for any business that wants to engage customers in busy pedestrian locations.
Use digital A-frames practically anywhere, in any weather and choose from single or dual-sided options that run from mains or battery power.
Here are five brand-boosting benefits that digital A-board signage can deliver for your business.
1. Capture Attention And Boost Sales
76% of customers have entered a shop because a digital sign caught their attention,1 making a digital sandwich board a great way of engaging passers-by and boosting sales.
Easily wheel your digital A-board into position each morning and move it throughout the day into the most effective location.
Lockable castor wheels mean you can leave it securely in shop-front locations, and the battery-powered, cord-free design makes it ideal for use in any pedestrian area:
Shopping centres
High streets
University and college campuses
Lobbies and waiting areas
Dual-sided digital A-frames can be doubly effective. They allow you to display different content on each screen, engaging two audiences at the same time and capturing the attention of customers travelling in both directions—for even greater ROI from a single digital signage unit!
2. Stand Out From Your Competitors
Whether it's a busy shopping centre or a bustling high street, digital A-board signage helps your business stand out:
Digital displays capture 400% more views than static signage.2
59% of people who see a digital sign want to learn more about the advertised topic.3
70% of 18 to 24-year-olds are aware of the digital signage they've seen in the last 12 months, in retail banking contexts.4
A digital A-board makes your business more visible, more engaging and more memorable. When it comes to attracting customers in-store, the eye-catching 43" screens make a great first impression, giving you an advantage over your competition in busy retail locations.
3. Advertise All Day, Every Day
Armagard's battery-powered digital A-boards can run for up to 14 hours, depending on screen brightness and the battery used.
Your promotions engage passers-by for a whole day and late into the night—ideal for bars, restaurants and other businesses with long opening hours.
Easily charge the unit overnight and roll it back into position the following morning for another day of effective digital advertising.
4. Advertise Reliably In Any Weather
Use your digital A-frame with peace of mind in outdoor locations and bad weather:
Armagard's digital A-frames have an IP56 rating that protects screens from water and dust ingress.
An environmental controller board operates internal climate-control features, allowing you to advertise from 2°C to 43°C.
The full HD screens have automatic brightness controls, ensuring your promotions look great throughout the day and in changing conditions.
Advertise reliably and effectively in wet weather and extreme temperatures, for maximum ROI all year round.
5. Save Time And Money
A digital sandwich board saves the time and money that you spend printing and installing paper signage every time your promotions change, making it a great long-term investment.
Digital A-boards are also extremely convenient. USB 'plug and play' functionality makes it easy to update your content quickly based on consumer demand, weather conditions or time of day—ideal for displaying dayparted menus at restaurants, coffee shops and fast food chains.
Choose The Best Digital A-Board For You
Armagard's digital A-frames are available in a range of dual and single-sided options.
Battery-powered units come with 450, 700 or 1,000 NITS screens, for clear promotions in bright environments. For maximum visibility in the brightest locations, choose a 2,500 NITS, mains-powered option.
You benefit from versatile, user-friendly and engaging digital signage that captures attention in any pedestrian location.
Contact Armagard for more information and to discuss the best digital A-board for you. Call +44 (0) 121 608 7226 or fill in a contact form today.
Sources:
[1] FedEx
[2] MVIX
[3] MVIX
[4] Bunn, Lyle, "Digital Signage in Retail Banking"

This post was written by Ben Telford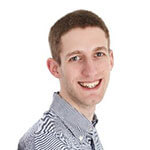 Ben joined Armagard as a copywriter in 2018. With previous experience of writing for a charity, he now assists in the production of Armagard articles, product pages and web copy. Ben Telford