Introducing The Portable Outdoor DigiStopper From Armagard
The dual-sided DigiStopper brings mobile, battery-powered advertising to shop fronts, customer entrances and outdoor locations.
As a complete solution for portable outdoor digital signage, it makes digital advertising easy and effective in most pedestrian locations. The DigiStopper ensures businesses stand out in busy retail environments, boosting footfall with clear, engaging promotions in any weather.
Here's everything you need to know about this innovative new product.
What Does It Do?
"We designed the DigiStopper to help businesses convert passers-by into customers," says Mark Neal, MD of Armagard. "The unit's features allow vendors to advertise all day, in wet weather and in most locations."
A Range of Battery-Powered Screen Options
For cord-free advertising, users can choose the battery-powered DigiStopper with two 700 or 1,000 NITS screens, with runtimes of up to 14 hours, depending on screen brightness.
The integrated 43" screens are protected by 6.4 mm anti-reflective glass, which reduces glare so that promotions are easy to read from any angle. The full-HD screens feature automatic brightness controls, which extend battery life and ensure content looks its best throughout the day.
Portable And Dual Sided
Lockable castor wheels allow users to position the DigiStopper directly in the line of sight of passers-by. Vendors catch the attention of customers as they approach their business, making this portable outdoor digital signage more effective than window displays, which only face outwards and often aren't seen until it's too late.
The dual-sided design means users can show different content on each screen and engage people travelling in both directions—for twice the advertising revenue from a single digital signage unit!
Outdoor-Ready
The DigiStopper is designed with adverse weather and outdoor security in mind:
IP56 rating: Protects against water and wind-blown particulates, for reliable operation in wet weather and dusty locations.
Environmental controller board: Enables year-round advertising from 2°C to 43°C, for maximum advertising ROI.
Powder-coated mild-steel enclosure: Protects against physical impact and damage.
Key-operated locks: Maintain the security of the screens in public locations.
Users enjoy peace of mind about the reliability of their investment in outdoor locations, backed up by Armagard's five-year warranty on mechanical parts and one to five-year electrical warranty.
Available With CMS And Media Player Included
For a complete digital signage solution, businesses can purchase the DigiStopper A-frame with a CMS and media player included. Alternatively, users can enjoy the flexibility of using the third-party media player of their choice.
Who's It For?
The DigiStopper is ideal for any business that wants to attract more customers and stand out from the competition. That's restaurants, coffee shops, fashion chains, independent stores, supermarkets and more!
With its cordless design and lockable castor wheels, the dual-sided DigiStopper is suitable for most pedestrian locations:
High streets and shopping centres
Transport hubs
Pedestrian concourses
University and college campuses
Lobbies and waiting areas
Vendors can easily wheel their portable outdoor digital signage unit into position each morning and relocate it throughout the day into the most visible location. Users benefit from a full day of effective shop-front advertising, before bringing it back in-store for a simple overnight charge.
How Can You Find Out More?
Armagard welcomes enquiries from resellers and end users interested in purchase or lease options. Get in touch for more information about the DigiStopper range and for a no-obligation chat about the best arrangement for you.
Take a look at portable outdoor digital signage solutions or call +44 (0)121 608 7226 today.
This post was written by Ben Telford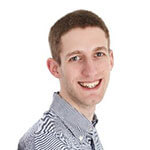 Ben joined Armagard as a copywriter in 2018. With previous experience of writing for a charity, he now assists in the production of Armagard articles, product pages and web copy. Ben Telford