6 Benefits of Touch Screen Technology for Your Business
The global touch screen display market is set to reach a value of over £71 bn by 2024—that's more than double what it was worth in 2015.1
Businesses are increasingly aware of the benefits of touch screen technology for customers and employees. At the same time, interactive displays are becoming more affordable, more accessible and more reliable, even in wet and outdoor locations.
The result is the growing use of touch screens in shops, workplaces and public spaces.
Here are six benefits of touch screen technology for your business, plus some tips for getting started in the most cost-effective way.
Six Benefits of Touch Screen Technology
1. Engage Customers
Interactive displays invite browsers to become participants, and participants are more likely to become customers.
Marshall Cohen, the NPD Group's retail-industry analyst, says that consumers are increasingly interested in experience over products, meaning that:
"…product [makers] are going to have to step up their game. Stores are going to really have to enhance the experience and do a better job of bringing the excitement of the product to the consumer." 2
Interactive digital signage is great at this. Use store-front touch screens to catch passers-by with an intriguing invitation to interact, engaging them with your brand, promotions and products.
In-store displays are also effective. Use self-service touch screen kiosks to display your catalogue, promote your loyalty card or invite customers to sign up for competitions.
Interactive displays help you connect customers with your brand in a fun, memorable and personalised way, which is all good for business.
2. Boost Productivity
Your employees can also benefit from touch screen technology.
Industrial touch screens work in harsh conditions and through gloved hands, providing your staff with an uninterrupted workflow in manufacturing environments.
You can boost productivity in wet environments, too. Waterproof touch screen enclosures are manufactured from food-grade stainless steel, sealed to IP65 and allow daily washdown—ideal for clean rooms, humid environments and food manufacturing.
Touch screen enclosures provide complete protection for interactive displays in manufacturing environments. Your shop floor operates with reduced downtime and increased efficiency, helping you generate maximum ROI.
3. Improve Accessibility
One of the most important benefits of touch screen technology is the improved accessibility it provides for people with disabilities.
People with impaired eyesight can zoom into digital signage, increasing the size of text and images, and they also benefit from voice technologies that read text out loud.
Similarly, those unable to use a mouse and keyboard might find a touch screen more useable, while height-adjustable touch screen kiosks cater to wheelchair users.
Development in the accessibility of digital technology is ongoing. By incorporating touch screens into your business, you can reduce the barriers that disabled people face, broadening your customer and employee base.
4. Speed up the Customer Experience
Customers care about price, quality and service, but they also value their time. Touch screens help you provide a faster, more-convenient customer experience:
QSR touch screens speed up ordering in fast food restaurants and drive-thrus.
Self-service wayfinding kiosks help visitors get where they're going faster.
Train stations, cinemas and car parks benefit from self-service ticket machines that fast track ticket purchases and speed up service.
An experienced digital signage manufacturer, like Armagard, can advise on the best touch screen for you, ensuring you provide a user-friendly experience that customers will thank you for.
5. Provide a 24/7 Service
Touch screens make it easy to provide a round-the-clock service.
Car parks, train stations, airports and more can benefit from touch screen kiosks and ticket machines that operate day and night.
Make sure you use displays that are suitable for unattended locations. A touch screen enclosure protects your display from physical damage, vandalism and theft, providing you with peace of mind about the security of your investment in public places.
By using touch screen kiosks to provide a 24/7 service, you improve service for customers and boost revenue in unattended locations.
6. Reduce Staff Costs
With self-service processes in place, you save on staff costs.
24/7 touch screen services mean you no longer need to pay high-rates for night workers.
Even in the day, you can free up staff to deal with matters that require face-to-face attention, while your self-service kiosks provide a reliable service to everyone else.
Interactive Enclosures: Delivering the Benefits of Touch Screens for Your Business
The benefits of touch screen technology are wide-ranging: happy customers, productive staff, an inclusive business and more revenue.
Don't know where to get started? Touch screen enclosures house an ordinary screen in a robust body and use projected capacitive technology to make it interactive.
Enclosures allow you to cost-effectively install interactive displays in any location, enjoying the benefits of touch screen technology without the drawbacks of purpose-built displays:
Use the screen of your choice: Install a display that meets your exact specifications, or save time and money by using one you already own.
Choose from custom options: Touch screen enclosures are available in a range of sizes, shapes and mounting options. You receive the benefits of touch screens no matter how tight your space. You can even commission a custom enclosure that meets your exact requirements.
Install touch screens in any location: Enclosures protect your display in a robust, weatherproof body. Install touch screens in wet, industrial and unattended locations, with peace of mind about the reliability and security of your investment.
Repair, replace and update with ease: Purpose-built outdoor touch screens are sealed units that require a specialist engineer to carry out repairs. Enclosures, on the other hand, allow you to access, remove and replace the display yourself, saving you time and money.
Generate maximum ROI: Enclosures maximise the lifespan of your displays, minimising downtime and reducing lost revenue. They also last for many years, meaning you can use the same enclosure to protect several generations of display, generating maximum ROI.
It's easier than ever to enjoy the benefits of touch screen technology in your business.
By creating an environment which improves the consumer experience and/or enhances the workflow of your employees, you can look forward to happy customers, improved productivity and a great ROI.
Contact Armagard to discuss the best touch screen for your business. Call +44 (0)121 608 7226, or fill in a contact form today.
Source
[1] Transparency Market Research
[2] Footwear News

This post was written by Ben Telford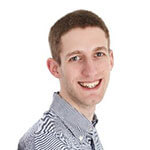 Ben joined Armagard as a copywriter in 2018. With previous experience of writing for a charity, he now assists in the production of Armagard articles, product pages and web copy. Ben Telford