Industrial Keyboard
IP54 keyboard
Fully dust proof and washable, Armagard industrial keyboards are IP54 rated, and provide hardware protection from collisions and particle ingress in busy industrial environments. When combined with an industrial enclosure, sealed keyboards provide protection and usability for computer systems in dusty and hot manufacturing areas.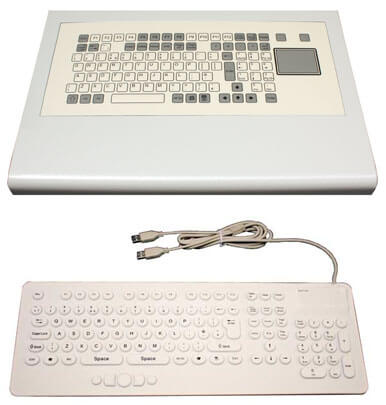 At a glance - Powder coated intergrated:

Size (WxDxH)mm:

490 x 296 x 81.2

Material:

Powder Coated

Number of keys:

Varies per model

Operating Temp. :

-30°C to 80°C

Connector :

USB / PS/2

IP Rating:

IP54
At a glance - Standalone

Size (WxDxH)mm:

448 x 181 x 19

Material:

Latex-free silicone rubber

Number of keys:

102

Operating Temp. :

-30°C to 80°C

Connector :

USB (PS/2 adapter included)

IP Rating:

IP54
Ideal for:

Floors
Industrial areas
Workshops
Manufacturing
Warehouses
Integrated – Heavy Use
Made from mild steel and sealed to IP54, integrated keyboards offer rugged and secure protection from collisions and impacts, while also preventing hazardous particle ingress that's common in busy industrial environments. Integrated keyboards are compatible with select Armagard PENC units, and are available with different navigation options such as, touch-pad, button-mouse or tracker-ball.
Stand Alone – Light Use
Made from non-porous latex free silicone, Armagard's light use IP54 keyboard is a particle proof and light weight keyboard design suited for light industrial environment use. Stand alone keyboards are available for select PENC Armagard units which use an integrated sliding tray.
Features & Benefits
Tough enough withstand regular cleaning with with alcohol, 10% bleach solution, and other strong cleaners, washable keyboards are an ideal solution where contamination may be a problem. Suitable for 19 inch keyboard trays.
For full specifications & prices - Contact Us Now!
Specifications & Guarantees:
All Armagard keyboards are constructed according to European IP and International NEMA standards, ensuring protection from liquids and particulates.
We guarantee:

5 Year Warranty of all mechanical parts (1 year for keyboards/mice)
Fast delivery
Informed and helpful staff
High quality engineering
Over 14 years of industry experience