Avon & Somerset Police
Police Force PCs Armoured Up by Armagard Enclosures
About Avon and Somerset Police
The Avon and Somerset Police Force formed in 1974 after the Constabularies of Somerset and Bath, the Bristol Police Force and the Staple Hill division of Gloucestershire Constabulary, merged.
With more than 150 cells spread across eight police stations, the Avon and Somerset Constabulary detains approximately 10,000 suspects every year, making their custody suites very busy!
The Challenge
Body armour is standard for Avon and Somerset Police Constables in the line of duty, but the Constabulary was in need of protection for a different type of PC – its brand new, custody suite computer equipment.
Used to measure a suspect's alcohol limit in drink-drive cases, the Constabulary's PC equipment is often on the receiving end of aggressive drunks attempting to damage computer systems.
Avon and Somerset's Information and Technology Officer, Adrian Mitchell, said: "The computers we use display breathalyser test readings. If a suspect fails the test, it tends to make them irate, and they will lash out at the machine."
The Constabulary became increasingly concerned about costly, custody suite computer equipment getting damaged and needed a solution that could withstand a physical attack from aggressive suspects.
The Solution
Avon and Somerset Police installed Armagard's heavy-duty, PENC 300 compact computer enclosure across its custody suites, mounting them on the wall in close proximity to breathalyser machines.
With a slimline design, the PENC 300 is a space saving system equipped with a shatterproof polycarbonate viewing window designed to withstand high impact forces.
The powder coated, mild steel chassis provides the perfect armour for computer systems used in volatile environments, making it the perfect fit for the Avon and Somerset Police custody suites.
Delivered ready to use, the enclosure can accommodate screen monitors up to 17", plus a small or thin-client PC. Internal fans, plus optional heater and air-conditioning modules, help to maintain a safe operating temperate within the enclosure, preventing hardware from overheating.
Used widely by industrial facilities, manufacturing plants and distribution centres across Europe, the IP54 industry-rated PENC 300 compact computer enclosure represents the first and last line of defence for computer systems.
Protecting against dust, water splashes, oil, grease and more, the PENC 300 increases the lifespan of computer hardware, representing great value for money and a significant return on investment.
Mr Mitchell said: "We decided to use Armagard enclosures because the custody suites are very busy, and in particular, our computer systems are housed next to the breathalyser machine. As they are fairly expensive pieces of equipment, we were concerned about acts of aggression targeting our systems, which is why we purchased the enclosures.
Benefits for Avon and Somerset Police
The Constabulary's expensive computer equipment is protected from aggressive outbursts, which not only saves the force time, money and an incident report, but prevents serious injury to staff and detainees.
With police budgets cut every year, investing in protection means essential computer systems remain in operation without the need for repair or replacement, saving the force thousands of pounds – money that is better spent on improving policing in the region.
The Results
Mr Mitchell said that Armagard's PENC 300 compact computer enclosures are already serving their purpose. During one custody suite incident, he recalled how one suspect – infuriated by a breath test result – tried to damage a computer system. He said: "Unfortunately for him, the computer cabinet came off better."
"The enclosure did exactly what it is designed to do. Without it, I'm fairly certain the detainee would have ripped the computer from the wall, but as it was, there was hardly a mark on it - it certainly fared better than its attacker."
Avon and Somerset Police were so impressed with the PENC 300 enclosure that they have installed several units across custody suites within its jurisdiction. Mr Mitchell said: "We are extremely pleased with the job the enclosures have done. They are performing absolutely the way they are supposed to do."
Featured Products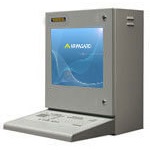 Compact PC enclosure
PC enclosure to protect TFT screens, desktop or tower PCs in harsh industrial locations.
Quick Enquiry