Outdoor Digital Signage Screens | A Basic Buyer's Guide
Taking screens outdoors was once the biggest barrier to growth for the digital signage market. Despite exploding onto the scene across indoor environments, like retail stores and banks, a simple but frustrating reality meant that market penetration for digital signage applications, outdoors, was quite low...
...The problem? Going back 15, even 10 years ago, screen technology was not designed for outdoor applications. Perhaps surprisingly, the big, household screen names weren't involved in the outdoor digital signage market.
That was then! The current market has seen significant growth in the application of outdoor digital signage screens, with small to medium-sized suppliers and the world's biggest screen names all getting in on the action.
Open air stadiums, transport hubs, QSR drive thru lanes, retail parks and more, are just some of the key locations into which the outdoor digital signage market is expanding. In a 2015 report[1], screen giants Samsung declared that "the technical challenges of taking screens outdoors have been resolved."
What Led Samsung to Make Such a Bold Statement?
As demand for outdoor digital signage grew, screen technology advanced at a rapid pace, with a new generation of purpose-built screens emerging that were designed specifically for outdoor applications.
There was soon an influx of screens with highly-advanced hardware features, including...
Climate control
Weatherproofing
Waterproofing
Dustproofing
...All of which, as Samsung's report highlights, solved many of the challenges of screen installation outdoors.
However, despite the emergence of purpose-built, outdoor digital signage screens, there was still a low market penetration. Why? Like any new generation technology fresh to the market, the price point put it out of reach of many end users. It was simply too expensive, and with very little evidence of ROI, many end users avoided the risk.
Enclosures for Outdoor Digital Signage Screens Emerge
The high cost of early generation, purpose-built outdoor digital signage screens resulted in the emergence of the outdoor digital signage enclosure market. Screen enclosures gave end users an alternative, enabling them to take any standard screen and use it in an outdoor environment.
The enclosure market has helped to drive outdoor digital signage application costs down, not only by enabling end users to deploy existing screens as outdoor digital signage displays, but by bringing down the price of purpose-built outdoor screens, as screen manufacturers looked to compete on price.
However, continued advances in screen technology mean that purpose-built, outdoor screen prices continue to rise as hardware becomes more sophisticated. The purchase price is no longer the only cost end users have to consider, maintenance costs are now a factor too.
Equally, screen technology continues to develop at such a pace that the 'latest' hardware is soon outdated, and end users are having to pay to stay in the game.
Nevertheless, in the current market, purpose-built outdoor digital signage screens and outdoor screen enclosures are arguably the key players driving the growth of outdoor digital signage applications. As a result, the global digital signage market is forecast to be worth $32.84 billion by 2023[2].
From a buyer's perspective, the growing outdoor digital signage market indicates growing consumer demand.
Outdoor digital signage is where people are looking for information and it's the fastest growing advertising, marketing and communication medium in the world – second only to the internet.
Key Information for Buyers
Advances in screen technology, and the emergence of the screen enclosure market, have given rise to a new era for the digital signage industry, while giving end users practical and reliable outdoor digital signage solutions. From a buyer's perspective, there's plenty of choice.
When opting for an outdoor digital screen solution, a purpose-built outdoor screen or a screen housed in an outdoor enclosure represent the best options. A purpose-built outdoor screen or screen enclosure should be:
Weatherproof/Waterproof/Dustproof - Rain, snow, condensation, temperature changes, dust and dirt are all major damage threats to digital signage screens used outdoors. Identify a solution that has a high IP or NEMA rating.

For example, all Armagard outdoor digital signage enclosures are manufactured to IP and NEMA standards.

These are European and North American industry standard ratings that indicate the level of protection a purpose-built screen or screen enclosure provides against the penetration of liquids, dirt and any other debris that could affect screens operationally.

Climate controlled – Managing the heating and cooling of screen hardware is arguably the biggest challenge associated with outdoor digital signage applications because there are so many variables.

To combat these challenges, purpose-built screens and enclosure systems have built in heating and cooling systems, including air conditioning, to ensure that screen hardware doesn't overheat in hot weather or freeze when the temperature drops.

Sunlight readable – Standard screens are unreadable in sunlight. As a result, there's been a surge in the number of high-bright screens available on the market. High-bright screens, otherwise known as daylight or sunlight readable displays, maintain screen visibility in extreme sunlight.

They do this by emitting a high level of light, often described as luminance, which is the measure of how much luminous intensity is coming from a certain area, and how much of that light can be perceived by the human eye when looking at a screen from a particular angle.

Luminance is measured in candelas per square metre, a measurement more commonly referred to as 'nits.'

Ideally, for a screen to be visible in extreme direct sunlight, a high-brightness screen with a luminance rating of at least 2,000 – 2,500 nits is needed.

With the challenges of outdoor digital signage installation conquered, the market is expected to see significant growth in the next five years. Meanwhile, screen and enclosure providers continue to innovate for a market that is reshaping advertising, communication and interaction all over the world.

Outdoor digital signage represents an opportunity to engage with customers and boost branding, in new and creative ways, the likes of which have never been seen before. Experts say that digital signage is just stepping out of its infancy, so watch this space!
This post was written by Daniel Waldron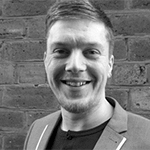 A dedicated writer for 15 years, Daniel joined Armagard in 2013. Daniel assists in the production of web copy, articles, blogs, press releases and white papers, for use by Armagard's marketing team. Daniel Waldron