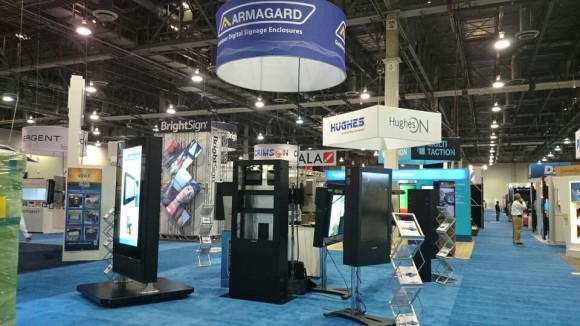 Are you a small to medium business enterprise? Competing with big players in your industry at various exhibitions? You've invested in digital signage and you're ready to use it.
Here are some top tips on how to set up digital signage for exhibitions that will help you to attract delegates…
As an SME, a common pain point for you could be finding yourself priced out of taking up prime spots at exhibitions. You've enquired about taking your place at the top table, but you've been quoted a premium price for the privilege. Does this resonate with you?
However, you've got digital signage on your side, right? If you haven't, hopefully this will be an eye-opener, a lesson in how to make your business look bigger in the presence of giants.
Unlike normal day-to-day business operations, 50% of the groundwork has been done for you. Delegates are already through the door, attendees who actually want to be at these particular events, in some cases paying to attend.
The other 50% is on you, but you can do it! With a well laid out exhibition stand that has digital signage at the heart of it, you've got a great opportunity to beat the big guns, and your close competitors, to a share of the market.
Yes, get excited. Here's what you need to think about when setting up digital signage for exhibitions.
Setting up digital signage for exhibitions
Step 1 – Positioning
OK, so you don't have 'the' prime spot at an exhibition event, but that doesn't mean you can't maximise the space you do have to create a show-stopping stand that will appeal to delegates.
If you're fortunate enough to get an 'open-stand,' and you've got enough digital signage systems available, point them in every direction – north, south, east and west. If you need inspiration, refer to the featured image that opens this article.
If you have a modest stand, assess your surroundings and position your digital signage advertising display in a way that will give it the most visibility, taking care not to cause an obstruction.
Step 2 – Content
You've perfected your positioning and you're visible to hundreds, perhaps thousands, of delegates. Now, you need to draw them in. This is where your content selection is key. Prior to attending an exhibition, consider what it is that you want to show to your particular audience demographic.
There will be delegates attending that don't know who you are as a business. Consider a captivating company video, a behind the scenes look, for instance.
There's a possibility that some delegates attending will have come across your business before and know what you're about. Why not tell them about a new product or service that will help them to solve a particular problem their business is experiencing?
You can pique their interest, engage them in a conversation and potentially make a sale or at least get them to register their interest so you can follow up after an exhibition.
Step 3 – Customer
Digital signage for exhibitions must be geared towards providing a unique customer experience. Before doors open on an event, if permitted, walk around the exhibition site as a delegate and when approaching your stand ask yourself, 'would I visit this booth?'
If possible, add an interactive feature to your digital signage offering. For example, make the screen touch capable, this will encourage increased dwelling times and provide a talking point for your company reps to engage visitors in a conversation.
Remember, the more customer-centric your digital signage is, the more likely they are to engage with your brand. Don't make the mistake of setting up digital signage for exhibitions to suit your conveniences.
The logistics
These are just some of the useful tips for establishing a presence when setting up digital signage for exhibitions, but we appreciate that every event will be different.
Therefore, the logistics will be different too, however, whatever the circumstances these three steps will always be relevant when setting up digital signage for exhibitions.
Whether you're a digital signage vendor, selling digital signage systems at some of the world's top digital signage shows or a business using digital signage to enhance your presence at an exhibition relevant to your industry sector, these tips will stand you in good stead for making your exhibit a success.
Digital signage for exhibitions brought to you by Armagard
Armagard is no stranger to exhibiting, attending top digital signage shows 'Digital Signage Expo' (DSE) and 'Integrated Systems Europe' (ISE) on a yearly basis. We've also played our part in providing customers with high-quality digital signage systems for use at exhibitions and events.
As an SME, with over 20 years of experience in the industry, you benefit from buying from a business who understands your pain points and has first-hand experience of digital signage deployment at exhibitions.
Want to invest in digital signage? You can trust our expertise. Tour our website – www.armagard.co.uk – to find your ideal solution.
To order your digital signage system and show-off your business at your next exhibition or event call 0121 608 7226, now.