intrinsically safe enclosure
Intrinsically safe enclosure protecting computers in hostile, harsh environments
An Intrinsically safe enclosure will provide protection for computers located in very hostile hazadous environments. The computers come with a lockable front providing protection and security, the enclosure is made to Zone 2 standard and protects against bomb or explosion environments. The enclosure is ideally suited for factory floors or processing plants.
---
For more info on Zone 2 enclosures click here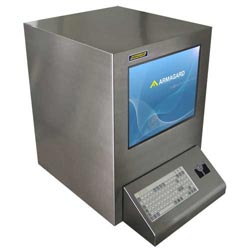 intrinsically safe enclosures made in stainless steel are designed for protecting computers from harsh and hostile environments, this means that companies can house there computer systems in even the most hostile of environments without the worry of them been exposed to or damaged.
To view our range of Armagard enclosures click here