Intrinsically safe computer
Intrinsically safe enclosure protecting computers in explosive, harsh environments
A intrinsically safe computer provides companies with a safe and secure option to protect there computer system inside a computer enclosure that is built to nema standard thus ensuring the protection of there computer system in hazadous conditions in order to allow production to carry on working. The intrinsically safe computer can be made to even Zone 2 (blast proof) standard and can house a computer system and monitor.
---
For more information on intrinsically safe enclosures click here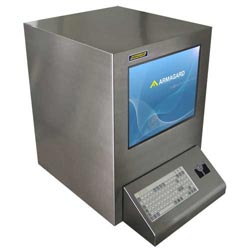 Stainless computer cabinet used in harsh surroundings to protect computer systems in wet and hostile environments.
View our range of Armagard products here