Harsh environment computer enclosure
Intrinsically safe enclosure protecting computers in explosive, harsh environments
A hazadous environment Computer enclosure provides protection of computer equipment in such extreme conditions as bomb blast areas and wet hostile environments, the computer enclosures are made to Zone 2 standard and enable the use of computers in areas that usually computers can't be used.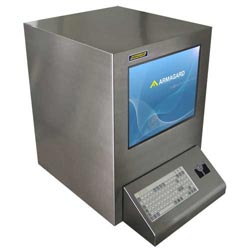 Go to Computer enclosures for hazadous environments
PC guard provide computer enclosures that provide protection of computer equipment in hazadous enviornments such as wet factory floors, mines etc. The enclosures are made of Stainless steel and conform to IP65 standard, the enclosure can house a processor and monitor and provide complete protecton. The enclosure will allow production thus ensuring company doesn't lose revenue.