Digital Signage for Small Businesses: 6 Reasons to Get Started
As a small-business owner, you know the importance of providing a great customer experience for each person you deal with.
Digital signage can help you achieve this goal while simultaneously raising brand awareness, saving time and boosting revenue.
Here are six reasons why digital signage for small businesses is a great idea.
1. It Improves Brand Awareness
"Have you opened recently?"
Four words that make you hang your head in frustration…
If you're fed up of people walking cluelessly past your shop front every day, even after many years, then you should consider outdoor and shop-front digital signage.
By capturing 400% more views than static displays,1 digital signage is far more effective than posters at making your presence known.
Research has also found that 70% of 18 – 24-year olds are aware of the digital signage they've seen in the last twelve months,2 meaning your digital advertising will stick in the memory better, too.
Use an outdoor digital totem to give your brand a prominent position on the high street, or make the most of your shop front with a through-window advertising display.
Either way, digital signage can do wonders for your local visibility.
2. It Engages Customers and Generates Revenue
Digital signage is effective at engaging customers, increasing footfall and boosting revenue:
76% of customers have entered a shop because a digital sign caught their attention.3
Digital displays encourage customers to spend 30% longer in store.4
Over 40% of shoppers say that digital displays can change what they buy.5
Digital signage leads to a 31.8% increase in sales volume.6
By replacing your printed displays with indoor digital signage, you can generate a significant upswing in sales.
Even if you're not a retail business, you can increase interest in your services by placing digital signage in key locations, such as waiting areas.
Wherever you use them, digital displays are more effective than printed signage at capturing attention and driving sales, helping you generate a great ROI.
3. It Reduces Perceived Waiting Times
Digital signage can reduce perceived waiting time by as much as 35%,7 making it a great way to increase customer satisfaction.
Any small business with a waiting area can implement this simple use of digital signage—dentists, vets, estate agents, banks and more.
By combining entertainment with adverts about your products and services, you simultaneously improve the customer experience and promote your business.
You don't even need to invest in a new screen to get started. With a TV protector, you can give your old TV a new life improving the customer experience in your waiting area.
4. It's More Versatile Than Static Signage
How much time and money do you spend printing and installing static signage?
A lot, no doubt—every time a new product launches, promotions change or the holidays affect your opening hours...
Digital signage eliminates this hassle, reducing printing costs, saving paper and ending the struggle of hanging awkward paper signs.
With a content management system, updating your signage can be as simple as dragging and dropping your content from a folder on your computer to the display's playlist. Digital signage media players are increasingly user-friendly, too, allowing you to schedule content to change automatically.
Digital signage is far more versatile than printed signage—easily display your latest offers on one day and your holiday opening times on the next.
5. It Improves Perceptions of Your Business
Digital signage helps small businesses make a big impression.
Digital displays, touch screens and shop-front digital signage impress customers and demonstrate that your business is up to date and on-trend.
Show customers that your business, no matter how small, has a national or global awareness. Banks, building societies and financial advisors, for example, can display live market data and financial feeds, demonstrating that the business has its finger on the pulse of all the latest news.
You can also highlight your local involvement or ethical side. Similarly, create 'behind the scenes' content that shows your products being made.
Content like this humanises your business, builds trust and generates support from your customers for who you are and what you stand for, as well as for what you sell.
6. It's More Cost-Effective Than You Think
You can enjoy the benefits of digital signage in your small businesses for less than you might think.
Digital signage enclosures house an ordinary screen in a secure, weatherproof body, converting it into a robust display suitable for any location.
Enclosures offer a number of benefits over purpose-built commercial displays:
Flexibility: Use any screen you want. Source one to your exact specifications or save time and money by using one you already own.
Ease of maintenance: Remove, replace and repair your display at any time, without waiting for a specialist engineer.
Security: An enclosure protects your screen in a lockable, steel body with an impact-resistant glass or polycarbonate window. Enjoy peace of mind about the security of your digital signage in public locations.
All-weather reliability: An enclosure provides a waterproof and climate-controlled environment for your display, maximising its lifespan, minimising downtime and reducing lost revenue.
Longevity: An enclosure lasts for many years. Maximise ROI by using it to protect several generations of display.
Enclosures make digital signage accessible and cost-effective for small businesses.
They're available for indoor and outdoor locations and in a range of size, shape and mounting options, allowing you to enjoy the benefits in any space and on any budget.
Digital Signage for Small Businesses: Conclusion
Even the smallest company can think big.
Digital signage for small businesses impresses customers, raises brand awareness and boosts revenue.
Getting started doesn't have to be expensive. Use digital signage enclosures to turn your existing screens into engaging displays suitable for any commercial environment.
Armagard has over 25 years' experience supplying digital signage enclosures to businesses of all sizes, all over the world.
For more information about integrating digital signage into your business, call +44 (0)121 608 7226, or fill in a contact form.
Sources:
[1] MVIX.
[2] Bunn, Lyle, "Digital Signage in Retail Banking."
[3] FedEx
[4] MVIX
[5] Cisco
[6] MVIX
[7] MVIX

This post was written by Ben Telford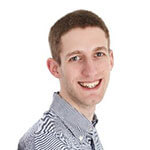 Ben joined Armagard as a copywriter in 2018. With previous experience of writing for a charity, he now assists in the production of Armagard articles, product pages and web copy. Ben Telford