Freestanding Digital Poster
Attract Customers With A Battery-Powered Advertising Display
The freestanding digital poster makes shop-front and in-store advertising easier than ever. Wheel the unit into the ideal location to engage customers with special offers, menus, information and more. The 43", full HD display is positioned at eye level and has a 700 NITS brightness rating. Your content captures the attention of passers-by, drawing them in and boosting sales.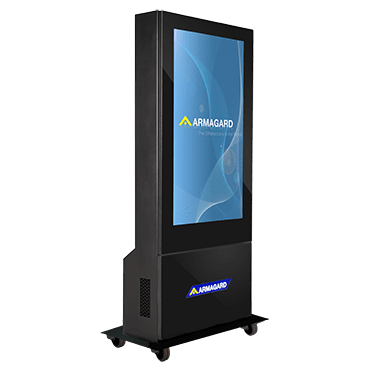 Click thumbnails for larger images:
Ideal for:

Pedestrianised Areas
Pavement Digital Signage
Restaurants and Coffee Shops
Shopping Centres
University and College Campuses
Lobbies and Waiting Areas
Transport hubs
At a glance:

Size (HxWxD) mm:

TBC

Display Size:

43"

Display Resolution:

1920 x 1080

Display Brightness:

700 NITS

Battery Life:

14 Hours Max,
9 Hours Min
(Subject To Battery Installed)

Temperature Range:

2°C to 43°C

IP Rating:

IP56

Product Code:

TBC
Freestanding Digital Poster For Cordless Advertising In Most Locations
The battery-powered mobile totem has a maximum 14-hour runtime, for a whole day of advertising. Cordless operation means you can easily position the unit each morning and move it around whenever you want. As a cost-effective upgrade from static signage, the freestanding digital poster allows you to update content easily, without the time and cost of reprinting paper signage.
The wheeled digital poster is outdoor ready for year-round advertising in changing weather conditions. An IP56 rating protects the display from liquid and dust, and an environmental controller board ensures components operate reliably from 2°C to 43°C. Enjoy reliable, effective advertising in any weather.
For full specifications & prices - Contact Us Now!
Features And Benefits
| Features | Benefits |
| --- | --- |
| Battery-Powered | Enjoy flexible advertising in most locations. The maximum 14-hour battery life provides a whole day of advertising, with a full charge completed overnight. |
| 700 NITS, Full HD Display | Maximise ROI by engaging customers with clear, readable content in outdoor locations. |
| Environmental Controller Board | Boost sales with reliable digital advertising that works from 2°C to 43°C. |
| Powder-Coated Mild Steel and an IP56 Rating | Impact resistant and protected from liquid and dust. Advertise with confidence in bad weather and in outdoor locations. |
| Key-Operated Locks | Enjoy peace of mind about the security of your investment in public locations. |
| Castor Wheels and Brakes | Position the freestanding digital poster securely in shop-front and public locations. |
| Available with CMS and Media Player Included | Save time by purchasing your portable totem as a complete digital signage solution or use the media player of your choice. |
| Choose from Custom Colours | Maximise visual impact by matching your battery-powered totem to your brand. |
Specifications And Guarantees
All Armagard enclosures are built in accordance with European IP and International NEMA standards, guaranteeing protection from liquids and particulates.
For full specifications & prices - Contact Us Now!
We Guarantee:

Five-Year Warranty on all Mechanical Parts
One-Year Standard Electrical Warranty, with a Five-Year Extended Warranty Available
Informed and Helpful Support Staff
High-Quality Engineering
Over 25 Years of International Industry Experience
Excellent, Ongoing Customer Service
Lifetime Technical Support
Contact Us Now