Easy COVID-19 Safety Measures To Reassure Staff and Customers
65% of British workers are anxious about returning to work after lockdown.1 Concerns include the enforcement of social distancing and the risk of catching an illness from a colleague. Customers are also looking for reassurances. Many want to see COVID-19 safety measures in place before they return to normal routines.2
The right solutions can help businesses provide the peace of mind people are looking for. Here are two ways to give staff and customers confidence your business is a safe place to work and visit.
1. Screen Staff And Visitors For A High Body Temperature
The first step to a safer business is to limit the presence of viruses in the first place. Do this by installing fever detection kiosks that identify potentially ill people at the door.
These infrared scanners take a body temperature measurement of a person's forehead and alert them if they have an above-average reading. Once scanned and inside, staff and customers can be confident the people they're dealing with are free of this virus symptom — which is a huge reassurance.
Body temperature kiosks also complement your other COVID-19 safety measures. Rapid scanning keeps entrances clear, which supports social distancing. Face mask compatibility allows users to keep their PPE on, for maximum hygiene in and around your premises.
Some scanners have facial recognition and access control. Pair these body temperature kiosks with automatic doors or turnstiles to permit or deny entry based on temperature, identity and/or whether the person is wearing a mask. You can register thousands of people on these systems, so they're ideal for organisations of any size.
These units record data about each entrant, including their temperature and a timestamped photo. You get an audit trail that you can use for contact tracing, attendance monitoring and to prove the steps you're taking to protect staff and visitors.
By installing fever detection kiosks at entrances, you demonstrate that you take workplace health and safety seriously. Staff can be happier and more productive, and customers will be encouraged to keep doing business with you. Both help safeguard the future of your company in times of high viral transmission.
2. Make Good Hand Hygiene As Easy As Possible
Once people are inside your business, make it easy for them to maintain good hand hygiene by installing hand sanitiser digital displays in key locations. Proper hand hygiene is one of the most basic COVID-19 safety measures, but its importance can't be overstated:
In 2014, the Wall Street Journal reported on a study that described how a virus on a door handle spread to half an office's surfaces in just four hours.
In 2016, research found that the keyboards in one office harboured 20,598 times more bacteria than a toilet seat.3
The hand sanitiser digital display is an effective way of combatting the spread of viruses throughout your workplace. The unit has a motion-activated dispenser that works without buttons or pumps, reducing the spread of germs through cross-contamination. The 21.5" screen is ideal for COVID-19 hygiene instructions, or you can use it to engage customers with your latest promotions.
Importantly, the digital sanitiser kiosk is easy to install and maintain. Stand mounting allows you to move the unit into the most effective location at any time, while wall mounting is ideal for securing it in position. Included software allows you to remotely monitor sanitiser levels on multiple units, for maximum convenience.
The digital hand sanitiser station is ideal for entrances, communal areas, shared workspaces, staff kitchens and more. Install the unit throughout your business and give people confidence your premises are as hygienic as possible.
Contact Armagard For More About COVID-19 Safety Measures For Businesses
Operate safely, productively and profitably after lockdown. Use fever detection kiosks and hand sanitiser stations to give people confidence your business is a safe place to work and visit.
Call +44 (0)121 608 7226 to discuss your requirements or fill in a contact form to request more information.
1 Evening Standard, research by Bupa Health Clinics
2 Mckinsey & Company
3 CBT Nuggets
This post was written by Ben Telford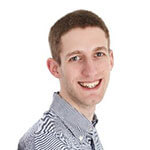 As Armagard's head of content, Ben oversees the production of articles, web copy, guest blogs and more. He aims to make Armagard's expertise in digital screen protection accessible to customers so they can choose the right solutions for them. Find Ben on LinkedIn.